Welcome to our second edition of the Galileo Teacher Training Programme newsletter. We hope that you find it useful and its reading interesting.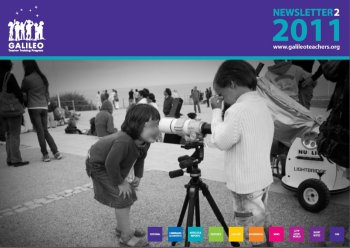 This issue is filled with a lot of new challenges and nice success stories. The citizen science is thriving and LCOGT is just warming up to present us several opportunities to enter the world of research and drive our student's interest to science to complete new and innovative grounds.Following the International Astronomical Union vision for its contribution to the developing world an Office for Astronomy Development was created in Cape Town and is under the direction of the very talented Kevin Govender who shares his vision in this newsletter. Universe Awareness brings us good news of their European efforts with nice contributions to the construction of children awareness of our Universe. New and old campaigns fill the pages with their results for the school year just ending in the Northern Hemisphere. Educational games find their ways through classroom and after school activities as Universe Quest gain the interest of girls in the US and boys and girls in Portugal. A very nice example of public outreach in Brazil with astronauts making the dream come true for hundreds of kids. And to finish a new call for workshop proposal opening the possibility for your contribution to change the world teacher by teacher.
May all the people in the world have the opportunity to look through the "eyes" of a telescope and wonder with the beauty of our Universe !!
Join us and help GTTP fulfill its vision of making this a much better world !!!
If you are planing to print the newsletter you should download the high quality PDF. For computer screen reading the lower quality PDF works fine.
| | |
| --- | --- |
| High quality (10.5 MB) | Low quality (1.2 MB) |
| | |