Date: 17-21 October 2022
Venue: Online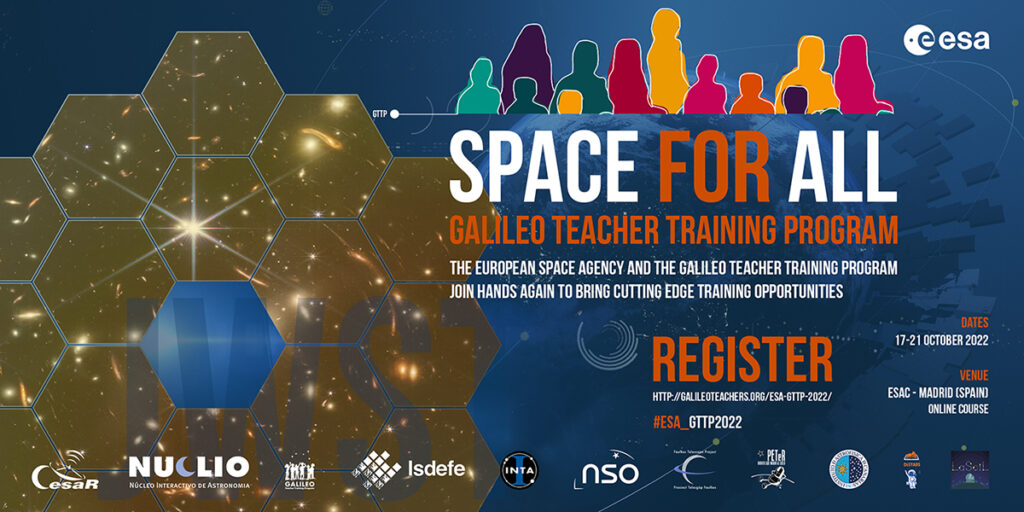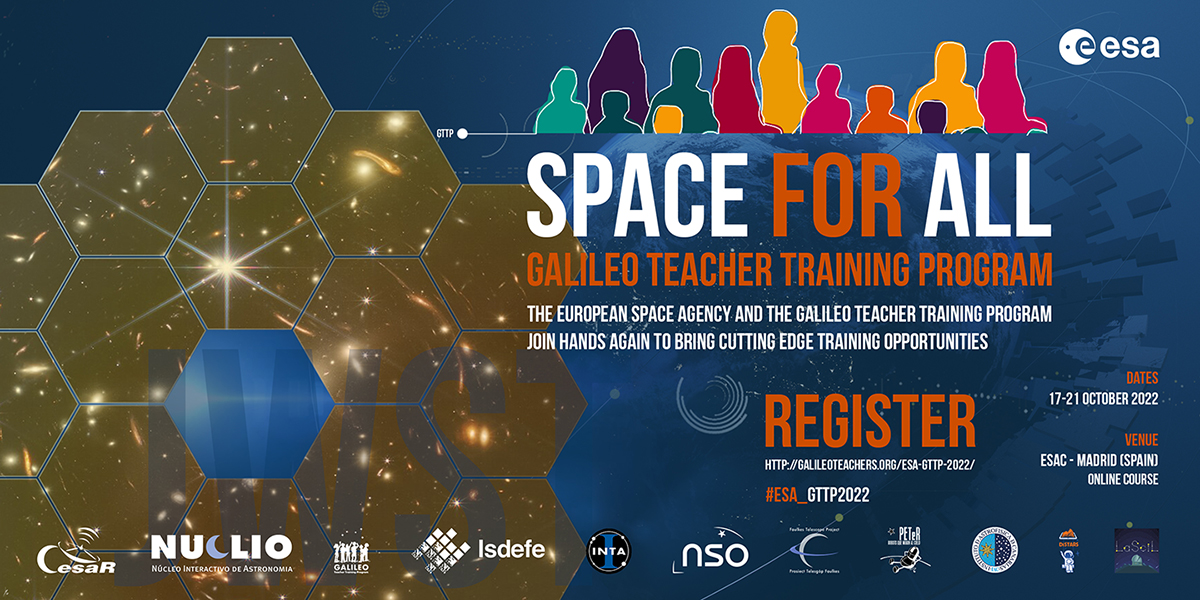 The European Space Agency and the Galileo Teacher Training Program join hands again to bring cutting-edge training opportunities to all interested teachers.
The CESAR project located at European Space Astronomy Centre (ESAC), ESA's window to the Universe, welcomes teachers from all over the world to join us in this virtual adventure. Speak with the scientists and learn about the discoveries taking place at ESA.
The program will include presentations by scientists, hands-on activities, digital tools, research activities, and a virtual tour of the facilities and to the ESAC telescopes.
The training is organized by CESAR (Cooperation through Education in Science and Astronomy Research), the resident educational team at ESAC, and NUCLIO (the coordinator of the Galileo Teacher Training Program), with the support of the team from the IAC (Instituto de Astrofisica de Canarias), the Faulkes Telescope Project and the National Schools' Observatory.
Participants will have opportunities to network and establish a series of research projects in partnership with their colleagues and the scientists supporting the training. Take part in this training course and go back to your school with a research project in your hands.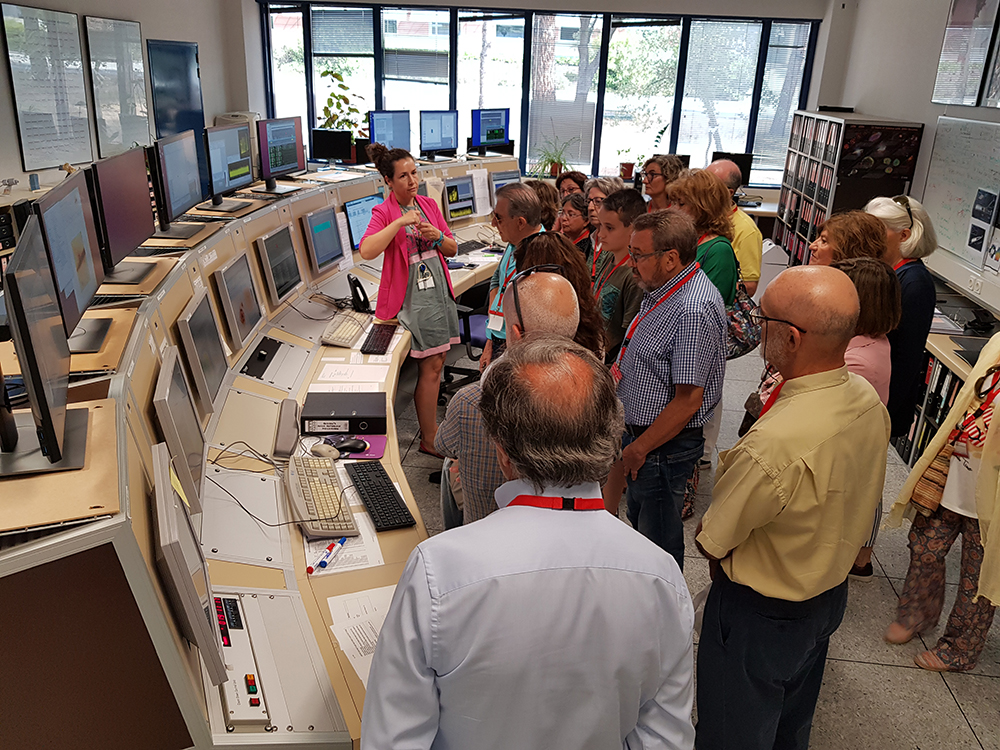 Who can apply?
The workshop is open to teachers of all grade levels and subject domains willing to dive into a real STEAM experience (Science, Technology, Engineering, Arts and Maths). We believe that learning improves when students are embedded in interdisciplinary experiences and in environments that seamlessly integrate horizontal (across subject domains) and vertical (across different grade levels) articulation.
---
---
ABOUT THE SCHOOL
General Information
Dates: 17-21 October 2022
Venue: Online
Duration: 30 certifiable hours
Modality: Online
Language: English
Topics and Lecturers
The school consists of lectures and workshops on Astronomy, Astrophysics, and Space Exploration, with a marked practical and interactive character, emphasizing the use of robotic telescopes for developing student research projects, as well as other resources and online laboratories, inquiry-based learning, and the multidisciplinary approach. The school's contents will cover the following topics:
ESA's space missions
The James Webb Space Telescope
The Gaia Sky survey
Robotic Telescopes
Hands-on activities in the classroom
Inclusion and innovation in education
Astronomy for sustainable development
Registration
Registration will be open until October 10 with a capacity of 200 online attendees.
Fees & Funding
Attendance to the school requires a symbolic registration fee which will go entirely to the NUCLIO Trust programme to help students from developing countries to pursue university studies.
The registration fee is 10 €.
Payment instructions will be sent to applicants once the registration form has been completed and their participation has been accepted.
The deadline for the payment is October 14.
Practical Information
A list of recommended software to be installed, together with the most updated version of the program, will be shared beforehand the beginning of the course.
Organizers
Organising Committee
Sandra Benítez Herrera (Co-Director of the School, CESAR)
Rosa Doran (Co-Director of the School, NUCLIO)
Beatriz Gonzalez Garcia (CESAR)
Fraser Lewis (FTP, NSO)
Gustavo Rojas (NUCLIO)
Joana Silva (NUCLIO)
Juan Ángel Vaquerizo (CESAR)
Nayra Rodríguez Eugenio (IAC)
Teresa Direitinho (NUCLIO)
ESA
CESAR
NUCLIO
IAC
PETeR
Faulkes Telescope Project
NSO – National Schools' Observatory
Contact
Ana Costa – NUCLIO