Date: 24-29 July 2022
Venue: Tenerife, Canary Islands, Spain.
This course is organized in the framework of teacher training activities of the PETeR Project (IAC).
NUCLIO and the IAC (Instituto de Astrofísica de Canarias) join hands again to promote the eighth edition of Astronomy Education Adventure in the Canary Islands. In 2022, under the theme "Astronomy for Sustainable Development" with the aim of joining the celebrations of the International Year of Basic Sciences for Sustainable Development.
The school will be held from July 24 to 29, 2022 in a hybrid format, both face-to-face in San Cristóbal de La Laguna (Tenerife, Canary Islands) and online, allowing participants from all over the world to enjoy the unique AEACI experience at the best convenience and in a sustainable way.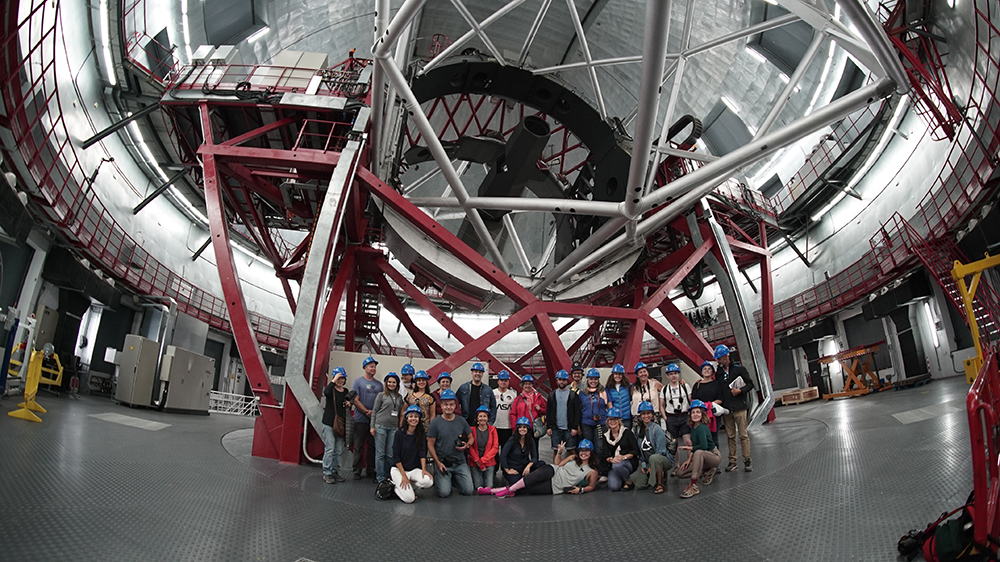 ---
Who can apply?
Teachers of all grade levels and subject domains, as well as informal educators, are invited to attend the school and dive into a real STEAM (Science, Technology, Engineering, Arts, and Maths) experience.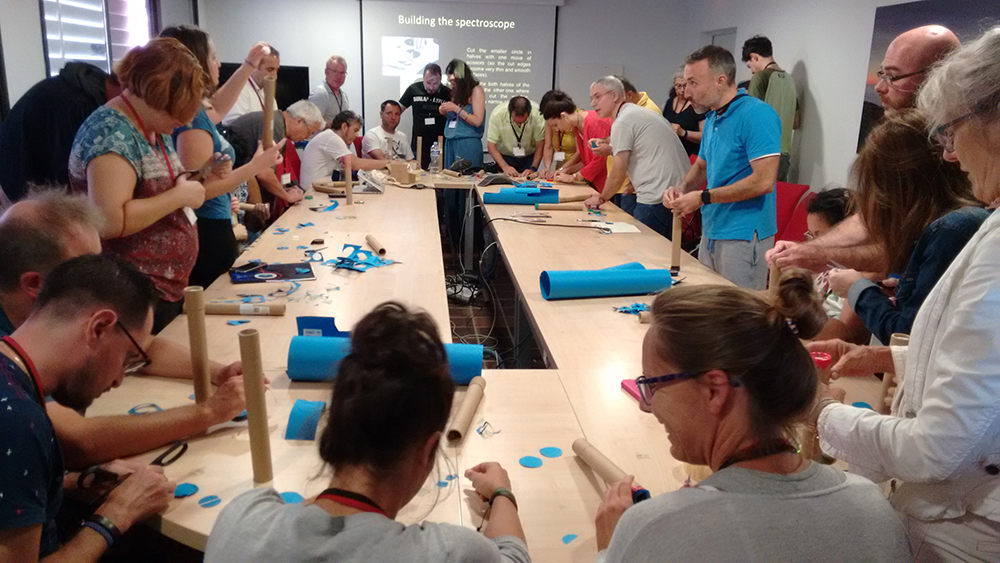 ---
ABOUT THE SCHOOL
General Information
Dates: July 24-29, 2022 (July 30 optional)
Venue: "Sala Grande" of IACTEC (July 24-28) and IAC headquarters (July 29), both in San Cristóbal de La Laguna (Tenerife, Spain)
Duration: 30 certifiable hours
Modality: hybrid (in-person and online)
Language: English
---
Topics and Lecturers
The school consists of lectures and workshops on Astronomy and Astrophysics, with a marked practical and interactive character, emphasizing the use of robotic telescopes for developing student research projects, as well as other resources and online laboratories, inquiry-based learning, and the multidisciplinary approach. The program also includes training visits (face-to-face and virtual) to the IAC facilities and to the Observatories of the Canary Islands. All this with a special focus on how Astronomy can and does contribute to Sustainable Development Goals.
The school's contents will cover the following topics:
Astronomy for sustainable development
Astronomy for the new generations
Astronomy for planet Earth
Astronomy for future homes
Sky Quality and Access to Starlight
---
---
Registration
Registration will be open until 15 July (or until full capacity is reached) and places will be allocated on a first-come, first-served basis, with priority given to teachers working in public schools.
We will admit up to 50 on-site attendees and 200 online attendees.
---
Fees & Funding
Attendance at the school requires a registration fee for accepted face-to-face participants which covers:
Welcome cocktail on July 24
Morning coffee during the lecture days
Lunch at the school venue
Visit to the Teide Observatory, Tenerife, on July 29 (including transportation, guided visit, activities and dinner)
School materials
Tuition fee for lectures, workshops, and visits
The registration fee is:
80 € for on-site participants from Spain (fee partially funded by the IAC).
400 € for on-site participants from outside Spain.
10 € for online participants. This symbolic fee will go entirely to the NUCLIO Trust programme to help students from developing countries to pursue university studies.
Payment instructions will be sent to applicants once the registration form has been completed and their participation has been accepted.
A limited number of grants may be awarded by the IAC to cover part of the costs of participants who do not have sources of funding. Applicants who require grants may indicate this on the payment form, once they have registered. Participants who are awarded a grant will be informed by 18 July.
Deadline for the payment is July 20.
We are also planning an optional visit to the Roque de los Muchachos Observatory on the beautiful island of La Palma, on Saturday, July 30, with an estimated additional cost of 100 € for Canarian residents and 200 € for non-residents. This trip will take place if it gathers the interest of a minimum amount of people (15), a requirement that has been met in all previous editions of the school. The trip includes the return flight from Tenerife to La Palma, bus transfers, lunch, and a guided tour of the main telescopes. It is a full-day trip, and we do not expect to be back in Tenerife before 20:30h or so.
More information on the PETeR website.
---
Organisers
This course is organized by the IAC and NUCLIO (the coordinators of the Galileo Teacher Training Program) and is carried out in collaboration with the Faulkes Telescope Project, the National Schools' Observatory, and the CESAR Team (ESA's education efforts at ESAC in Madrid), and in partnership with the European School Innovation Academy (ESIA).
Organising Committee
Nayra Rodríguez Eugenio (Co-Director of the School, IAC)
Rosa Doran (Co-Director of the School, NUCLIO)
Fraser Lewis (FTP, NSO)
Gustavo Rojas (NUCLIO)
Irene Puerto Giménez (IAC)
Iván Jiménez Montalvo (IAC)
Teresa Direitinho (NUCLIO)
Sandra Benítez Herrera (ESAC)
Juan Ángel Vaquerizo (ISDEFE)
---
Contact
Ana Costa (e-mail)