Date: 11-15 September 2023 (September 16 optional)
Venue: ESAC, Villafranca del Castillo, Spain.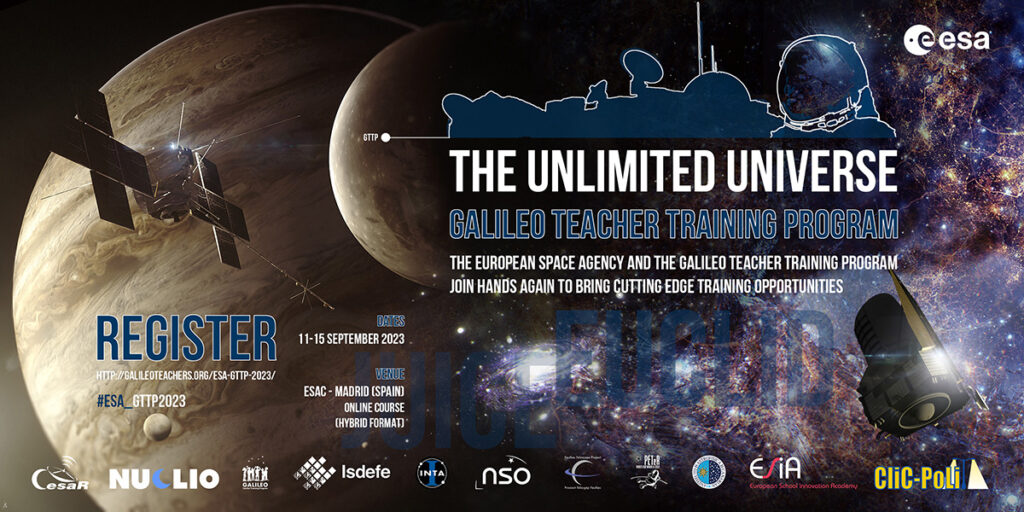 The CESAR/ESA Team and NUCLIO join hands again to promote their third edition of the ESA-GTTP: ESA-GTTP 2023.

CESAR (Cooperation through Education in Science and Astronomy Research) is a joint educational program developed by the European Space Agency (ESA), the Spanish National Institute for Aerospace Technology (INTA), and Ingeniería de Sistemas para la Defensa de España (ISDEFE). CESAR is based at the European Space Astronomy Center (ESAC), the ESA's windows to the Universe
In 2023, under the theme "The Unlimited Universe", ESAC opens their doors to teachers worldwide for an onsite immersion where we will assess the current human limits in the knowledge of the space and the ambition to learn about the next steps. Teachers will learn about ESA and its scientific program, in particular about the cutting-edge missions JUICE, EUCLID and GAIA, and about INTA and its scientific program. Together, those teachers will have the chance to execute hands-on activities with real scientific data from ESASky, the Virtual Observatory, educational telescopes from CESAR, PETeR and Faulkes Telescopes as well as get familiar with Citizen Science projects.
Teachers on site will have the chance to meet space experts and perform special visits to ESA space centers (ESAC and ESA's Cebreros tracking station) and to the Astrobiology Center (CSIC-INTA-Torrejn) together with an observing night in collaboration with the ESAC Astronomy Club. Participants will also have opportunities to network and to establish a series of research projects in partnership with their colleagues and the scientists supporting the training. Take part in this training course and go back to your school with a research project in your hands.
Those teachers that can not attend on-site will be able to follow the sessions on-line.
---
Who can apply?
The workshop is open to teachers of all grade levels and subject domains willing to dive into a real STEAM experience (Science, Technology, Engineering, Arts and Math). We believe that learning improves when students are embedded in interdisciplinary experiences and in environments that seamlessly integrate horizontal (across subject domains) and vertical (across different grade levels) articulation, that is to say, cross-curricular knowledge and practice.
About the School
General Information
Dates:

11-15 September 2023

(September 16 optional)
Venue:

European Space Astronomy Center (ESAC), Villafranca del Castillo, Madrid, Spain

Duration:

30 certifiable hours

Modality:

hybrid (25 seats in-person and no limits for the online format)

Language:

English
Topics and Lecturers
The program consists of lectures and workshops on Astronomy, Astrophysics, and Space Exploration, with a marked practical and interactive character, emphasizing the use of real scientific data from the ESA space missions and educational telescopes for developing student research projects, as well as other resources and online laboratories, inquiry-based learning and the multidisciplinary approach. The school's contents will cover the following topics:
Learning about ESA
Moons
Searching for Life
The Universe
Citizen Science for Education
In addition to the lectures at ESAC, the program will also feature visits to Centro de Astrobiología, Cebreros' ESA tracking station, and a night skygazing session.
You can find the detailed program here:
The program is subject to minor changes without previous notice.
Fees & Funding
The course is funded by ESA/CESAR and NUCLIO.
ESA/CESAR funds cover part of the expenses for ESA member states participants, and provide human and logistical support as in-kind contribution.
NUCLIO provides secretariat service as in-kind contribution.
NUCLIO will collect registration fees for online participants.
Fee for Online Participation:
10 €

for online participants. This symbolic fee will go entirely to the

NUCLIO Trust

program to help students from developing countries to pursue university studies.
A limited number of registration fee waivers is available for teachers from unprivileged communities. Please indicate in the registration form if you will apply for a fee waiver.
Payment instructions will be sent to applicants once the registration form has been completed and their participation has been accepted.
Deadline for registration fee payment is September 10, 2023.
Registration
Registration for on-site participants is closed.
Registration for online participation reopens on July 10, and will remain open until August 31.
Practical Information
The course venue (at the European Astronomy Center – ESAC) is located in Villafranca del Castillo, 30 km east of Madrid city center: ESAC.
The CESAR Team will only cover the lodging at the hotel El Ancla in Villanueva de la Cañada.
A bus will pick the attendees up in the morning for the lessons and bring them back to the hotel at the end of the sessions.
Participants should provide their details about their lodging request by July 10 to Ana Costa.
Teachers from Madrid are expected to come by themselves (by bus or by car). Details about how to get to ESAC here.
Contacts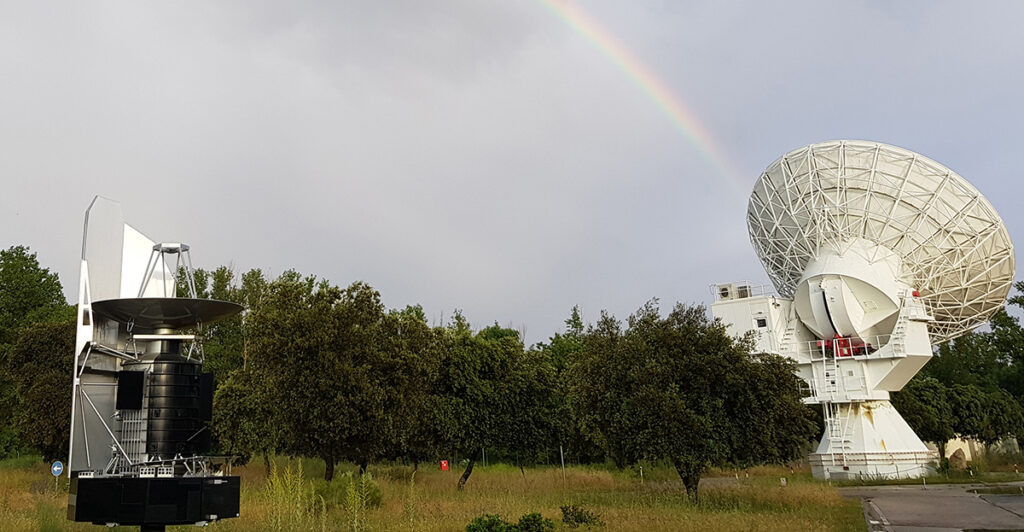 ---
Organizers
The training is organized by CESAR and NUCLIO (the coordinator of the Galileo Teacher Training Program), in collaboration with IAC (PETeR project), the Faulkes Telescope Project, the National Schools' Observatory, ICE-CSIC and in partnership with the European School Innovation Academy (ESIA).
Organizing Committee
Sandra Benítez Herrera (Co-Director of the School, CESAR)
Rosa Doran (Co-Director of the School, NUCLIO)
Beatriz Gonzalez Garcia (CESAR)
Juan Ángel Vaquerizo (CESAR)
Gustavo Rojas (NUCLIO)
Nayra Rodríguez Eugenio (IAC)
Fraser Lewis (FTP, NSO)
Teresa Direitinho (NUCLIO)
Joana Silva (NUCLIO)
Jorge Rivero (ICE-CSIC & Galileo Mobile)
Technical Secretariat
Ana Costa (NUCLIO)
Asunción Casado (CESAR)
Attendance to this training program is certified by the CESAR Team and NUCLIO, within the framework of the Galileo Teachers Training Programme (GTTP).