Dates: 14-20 July 2019
Venue: Tenerife, Canary Islands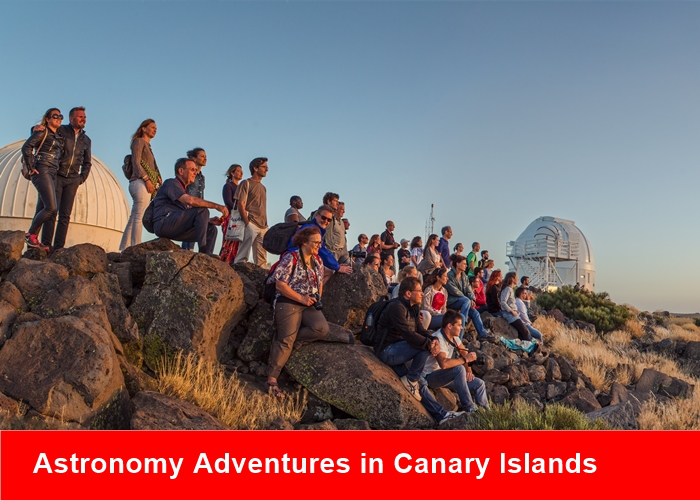 The training consists of conferences and hands-on workshops on subjects related to Astronomy, with particular emphasis on Inquiry-led teaching activities, and the use of robotic telescopes for scientific projects that can be pursued in schools. The programme includes a half day visit to Teide Observatory, where participants will visit several telescopes and experiments and will attend a night observing session. There will be an optional visit to Roque de los Muchachos Observatory (La Palma), on Saturday July 20th. Astronomers will explain how the telescopes work, the technology and instruments used on them, as well as the science and educational projects that are carried out with them.
The main objective of this school, organised in the framework of the Educational Project with Robotic Telescopes (PETeR) of the Instituto de Astrofísica de Canarias, and the European projects Open Schools for Open Societies and Galileo Teacher Training Program, is to introduce teachers to the use of technology and different e-Learning resources, to help them bring science education to students in a more attractive way. The international flavor of the event also aims to offer teachers the opportunity to make links with colleagues and schools in other countries.
The course fee for Erasmus+ applicants is 70€/day. The summer school fee covers:
– All materials needed for the course
– Tuition fee for lectures, seminars and workshops
The IAC has blocked 15 rooms in Hotel Laguna Nivaria with a special price for the course participants.
Date: Sun, 14/07/2019 to Sat, 20/07/2019
Organisers: Instituto de Astrofísica de Canarias (IAC)/NUCLIO/Faulkes Telescope Project
Venue: Headquarters of the IAC (La Laguna), Tenerife, Canary Islands, Spain. http://www.iac.es/info.php?op1=25&lang=en
Preliminary programme
Main Topic: "Astronomy and the periodic table"
DAY 0 – SUNDAY JULY 14TH
Welcome to the participants
Ice Break
Meet and Greet
Education and the 21st Century skills
DAY 1 – MON JULY 15TH
Slot 1
Welcome to the participants – Ice Break
Meet and Greet
Presentations: IAC, GTTP, Teachers
Introduction to Astronomy/Astrophysics
Astrophysics and the periodic table of chemical elements
Slot 2
Inquiry based learning
Interdisciplinary with the Big Ideas of Science
DAY 2 – TUES 16TH JULY
Slot 3
Introduction to the electromagnetic spectrum
Building a Spectroscope
Sessions with different lamps
Slot 4
Light pollution (Starlight foundation, Stars 4 all, Dark sky rangers)
DAY 3 – WED 17TH JULY
Slot 5
Introduction to Stellarium
Robotic Telescopes: Faulkes and PETeR
Preparing an observing session / Go to observe (live observing)
Slot 6
Introduction to image processing – Salsa J (color images, movies and photometry)
DAY 4 – THURS 18TH JULY
Slot 7
Discovering an Exoplanet ( Is there life in that planet, Kepler)
Slot 8
Visit to Teide Observatory
DAY 5 – FRI 19TH JULY
Slot 9
Detecting Variable Stars (PETeR Educational Programme)
Making a light curve of an object and discovering what it is
Slot 10
Collaborative Inquiry and Science Trails
Rap up
Evaluation
DAY 6 – SAT 20TH JULY
Visit to La Palma